| | | |
| --- | --- | --- |
| | | |
I hope she doesn't mind me starting you off on a poem here, but Carol Ann Duffy has my long-distance vote for the next Poet Laureate.
Mrs Scrooge
A new poem written for Review by Carol Ann Duffy. Illustrated by Posy Simmonds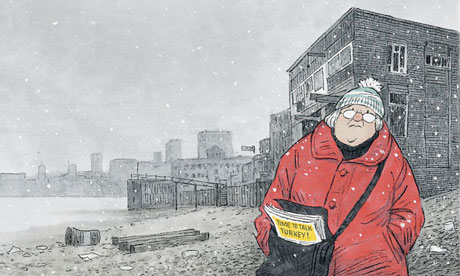 Scrooge doornail-dead, his widow, Mrs Scrooge, lived by herself
in London Town. It was that time of year, the clocks long back,
when shops were window-dressed with unsold tinsel, trinkets, toys,
trivial pursuits, with sequinned dresses and designer suits,
with chocolates, glacé fruits and marzipan, with Barbie,
Action Man, with bubblebath and aftershave and showergel;
the words Noel and Season's Greetings brightly mute
in neon lights. The city bells had only just chimed three,
but it was dusk already. It had not been light all day.
Mrs Scrooge sat googling at her desk,
Catchit the cat
curled at her feet; snowflakes tumbling to the ground
below the window, where a robin perched,
pecking at seeds. Most turkeys,
bred for their meat, are kept in windowless barns,
with some containing over 20,000 birds. Turkeys
are removed from their crates and hung from shackles
by their legs in moving lines. A small fire crackled
in the grate. Their heads are dragged under
a water bath - electrically charged - before their necks
are cut. Mrs Scrooge pressed Print.
to visit Marley's Supermarket (Biggest Bargain Birds!) at four.
Read it in full in The Guardian